2
How To Solve Your Grip Problems – Mighty Grip Review
My Mighty Grip review reveals a selection of products that can help if you've you been struggling with sweaty palms or grip problems on almost any part of your body.
So whether you're struggling with foot grip, knee grip or hand grip, there could be something that suits you right here!
I always begin a review by going over any quality claims a company has for their product so that we can accurately test whether the product meets the description advertised.
Product Claims
The New Pro glove line caters to all forms of fitness.

Mighty Grip gloves are great for strength training and advanced grip endurance. When your hands just can't take any more, Mighty Grip Gloves allow you to #GOHARDNOTHOME for advance move placement.

Gloves are sewn with heavy duty nylon thread with a tight double stitch. The gloves are flexible and mold to the palm of your hand. Snug fit.
Long lasting, time released, thermoplastic formula. The New ADVANCED Special Formula Grip "Black Label" guarantees to give you instant tack results that you are familiar with. The thermoplastic powder is designed to tackle cold weather and difficult situations.

The Grip that wont Slip! 1/4 ounce of powder. Enough for a 150 applications. HEAT ACTIVATED, apply after warm ups and stretching. The thermoplastic powder is heat activated by the body, the warmer the body the better the action.
Wrist support without tack. Similar to our heavy duty wrist support but thinner and shorter for use by ladies on the Pole.
Our altered design has a thicker pad, and is contoured to cup your knee so it moves with your body. The additional tack strips are divided into sections enabling the sheath to flex as your knee bends and straightens.

Of course the MG Liquid Motion knee pads has the Mighty Grip signature open back with Tack and quality construction that we all depend upon.
Ankle protector with tack to help build confidence while building upper body strength. Enables you to push up with your legs.

New and improved with extra tack strips on bottom of foot.
Get a 10% online discount on all Mighty Grip products with CODE: LOVEPOLEKISSES at www.mightygrip.com
So now we've taken a look at what's on offer, let's get down to the review!
Comfort
None of the products in the review provided any discomfort although some were a little tricky to get into.
If you've ordered the right size gloves to avoid any slippage while using them they will be a very snug fit.
My main issue with the gloves was that if I got very sweaty I would have great grip on my palms from the glove, but my fingers would sweat too and that felt a bit precarious in a handspring!
I easily solved this issue though by adding a little climbing chalk (or any chosen grip aid) to my finger tips to remove the moisture.
The wrist supports provide a good solid feeling of support in the most wrist intensive positions such as bracket grips.
The Liquid Motion knee pads felt a little bulky when I first tried them on, but after getting used to them they feel very comfortable!
That bulk is needed for all important knee protection and they sit nicely under leg warmers if you're just focusing on floor work with no need to climb the pole.
The tricky product for me was the tack anklet protectors. It was a bit of a struggle to wiggle into them, but once they were on they didn't feel uncomfortable.
Design
The mighty grip special formula is specifically designed to work in colder temperatures. It's still heat activated but will give better results in a cooler climate.
The pro-tack gloves come in a range of colours to suit you and are designed well with open fingers and reinforced stitching for heavy use.
Mighty Grip wrist supports are easy to put on, with a thumb loop to make it easier to tighten for a secure fit.
Liquid motion knee pads have been re-designed with reinforced stitching added to the design. This is for better durability due to reports of the old design coming apart with heavy use.
They also mold to my knee and bend with the body much better than the original design, and after a fair bit of heavy use I have had no problems.
With your knees well protected, these knee pads also allow for easy transitions between floorwork and pole tricks.
The mighty grip anklet protectors are designed to allow you to hold the pole between your ankles, I don't have a huge need for these but I still tested them against my own skin to compare.
Design wise, they serve their purpose but don't look overly attractive.
Size Guide Accuracy
All of the items I have recieved from mighty grip fit perfectly, here are the size charts for each item for your reference.
Mighty Grip Pro-Tack Gloves
To fit for pro-tack gloves it is recommended that you measure around the knuckles of your dominant hand.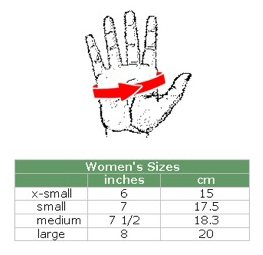 You want a snug fit for these to avoid any slippage while gripping the pole.
Liquid Motion Knee Pads
Measure around the back of your knee and over the knee cap for these.
If you have a very muscular thigh it is recommended that you go up one size.
Tack Anklet Protectors
Measure around your ankle for these.
If you have a very muscular calf or wide feet it is recommended that you go up one size.
So How Is The Grip?
In this section I have the answers you've been waiting for! Just how well do these products work to help grip and slip issues?
The Mighty Grip Pro-Tack Gloves did feel a little strange in an Iguana position but they provide a good strong grip, especially in hands-only moves like handspring.
Some people find that the hands slip inside the gloves. While this wasn't a problem for me as I ordered a snug fit, it is a problem you can easily solve.
Just apply a little Mighty Grip powder to the palms of your hands before putting them on if you have this problem.
These are also great to have around if your hands are getting sore from a lot of training.
Mighty Grip Special Formula Powder is great for cold climates. I did try this product out in the topical climate of Costa Rica.
While it is heat activated, I was far too hot and sweaty in Costa Rica for the powder to have any effect, there was just too much moisture on my skin.
I can only put this down to the special formula being made for cooler temperatures, as it works fantastic for me in the UK exactly as described.
Just put a small amount on your hands and rub like crazy, the hotter it gets the more you start to feel the tack from the product. It worked great!
For warmer climates try the original formula that wasn't modified for cooler temperatures.
Liquid Motion Knee Pads are fantastic for transitioning between floor and pole. Whether it's sore knees on a hard surface or friction burns from carpet you're trying to avoid, I love them!
They have become a must have addition to my pole bag and protect my knees well for floorwork while still allowing me to grip the pole with the back of the knee for tricks.
Mighty Grip Tack Anklet Protectors weren't my favourite product in this review but the grip was great between the ankles when climbing the pole.
What I didn't like about these was the struggle to get into them, and then they just weren't my style, I felt silly wearing them.
I also found the new tack strip on the bottom didn't have as much grip as I expected. I thought it would be great for moves like cupid, but fared better with my own foot grip.
Here are some demonstrations of each product so you can see for yourself.
Final Thoughts
While I didn't find the new tack strip on the bottom of the anklet protectors very grippy, they did work perfectly for their main job of gripping at the ankles.
They definitely can't be used to 'cheat' if you're relying on your foot grip for moves like Cupid though. So keep working on pushing those hips forward and engaging your core 😉
There were no major problems with the other products, other than some grip positions in the gloves that didn't feel comfortable as they restricted hand flexibility a little.
I absolutely love the Liquid Motion knee pads and the Mighty Grip Special Formula Powder is a great grip aid for cooler climates.
If you're in a hotter climate it might be worth testing out the original formula.
I'll also be updating the review soon with Kleinerts Dry Body Wipes which are available on the Mighty Grip website.
They boast advanced technology for effective sweat control, and a dry body for up to 7 days!
Like what you see? You can view the full Mighty Grip Range here!
You can also find a selection of Mighty Grip Products on your local Amazon site!
Have you tried any of these products? What did you think?
Get a 10% online discount on all Mighty Grip products with CODE: LOVEPOLEKISSES at www.mightygrip.com
About Mighty Grip Inc.
Based in the USA and supplying retailers worldwide, Mighty Grip is an industry leader in gloves and grips for aerial arts, sports and fitness.
Specialising in affordable, high quality protective wear, gloves and grip aids they are an international sporting goods manufacturer, online sporting goods store and wholesale distributor.