4
How To Choose The Best Pole Dancing Shoes
Have you been looking for the best pole dancing shoes around? Not sure which brand you need?
Well, look no further because today I'll be introducing and comparing the top two brands of pole dancing shoes.
When it comes to sexy shoes there's a tonne of them out there, but today's review goes over the pros and cons of the top two brands and the best style for you to choose.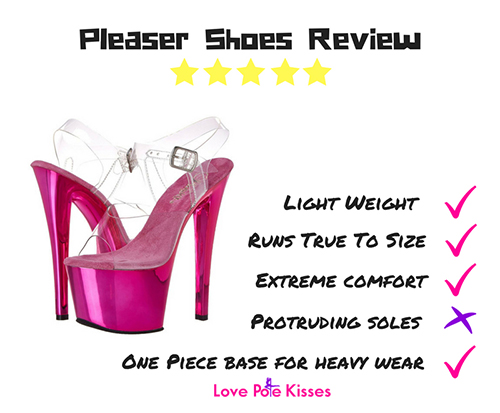 There's a reason Pleasers are the top brand of stripper shoes, and today you're going to learn why not just any heels will do.
What You Will Learn
How pole dancing in heels affects your performance
Qualities to look for in the best pole dancing shoes
Which brand of heels are the best shoes for pole
How high your first pair of pole shoes should be
The pros & cons of different styles of heels
Sizing advice for pleaser shoes
What Differences Can You Expect When You Start To Wear Heels?
The first difficulty you may come into when you slip on your first pair of pole shoes is walking.
This all depends on you and how familiar you are with walking in heels.
I used to wear heels a lot and despite that, when I wore my first pair of pole dancing shoes I was still left looking like Bambi!
To get used to wearing them you can walk around in your house, do some ironing, a little housework. The more you wear them the more natural they will feel.
The first time I put them on in a pole class I wobbled around and got used to the feel of just walking around the pole, I also learned that crouching in a squat in heels was surprisingly comfortable and sturdy.
With a little extra grip from the plastic straps climbing became easier, but inverting felt different and I suddenly wasn't strong enough to deadlift anymore.
I should note that this first experience for me was wearing Ellie shoes though, not Pleasers - and they are considerably heavier.
Once the Bambi leg stage is over (and in my case getting a lighter pair of shoes) you'll feel amazing and be able to reach your feet more easily in those bendy moves.
You can put your heels on whenever you're in the mood and get some super sexy floor work in or dangle in your favourite trick, just don't forget to check out those pins!
The biggest difference for me was noticing just how much longer my legs looked in the mirror, and they look a lot less nobbly at the knees too!
As far as confidence goes, slipping into a pair of platform stilettos couldn't have served me better. You should definitely try it out.
Discover The Qualities To Look For In The Best Pole Dancing Shoes
The best pole dancing shoes will be long lasting, hard wearing and sturdy yet comfortable.
Pleaser shoes are made with a solid plastic base. This means that the heel and platform are not separated or made from different materials.
Some shoes where the heel is a separate piece made from other materials will be prone to breaking easily.
I like a lighter pair of heels, which is one of the reasons I like Pleaser Shoes. They also fit well and are very soft on your feet.
It's super important to be comfy in your shoes, especially if you're going to use them to work in a club for long hours.
That's the reason why Pleaser shoes are the number one brand of Stripper Shoes, chosen for strippers, by strippers!
I can personally tell you that my pleasers are head to head with my slippers in the race for comfort, they are just that comfortable.
The only thing you really need to be attentive to when buying the perfect pair of pleaser shoes is the style.
How To Choose The Best Style Of Pole Shoes
There are a few things to remember when buying your Pleaser Shoes, and they totally depend on how you want to use your shoes.
Are you going to drag them around the floor and do a lot of heel bangs and clacks?
Are they for a photo shoot, or perhaps you just want to wear them for tricks and you're not into much floor work?
Whatever the main purpose of your shoes, whether it's to be practical or look pretty, here are some helpful tips;
Avoid metal parts, just like the no jewellery rule I avoid any metal on my shoes to protect the pole itself and avoid slippage.
As a beginner avoid the temptation to buy the shortest heels. This may seem like a good idea, but it is an illusion.
The height between the top of your heel and the ball of your foot (the arch) is larger in the shorter 6 inch heels.
This means that the ideal height for a beginner, with the least amount of weight for getting used to your shoes, if 7 inches.
8 inches are a great progression once you are used to the weight and balance difference and from there it's onwards and upwards. Heels go to extreme sizes as high as 10 inches!
With all of these high flying heels you'll find the arch height is the same or less steep than a regular pair of heels that you would normally wear on a night out, the huge platform makes up for the extra heel height.
The heel itself is also a little wider making them less wobbly to balance in too!
Buying a pair of pole shoes with ankle straps is important if you will be doing lots of power spins, leg kicks and inverted tricks to avoid your shoes flying off.
They provide more support around your heel and feel more secure because you know they aren't going anywhere!
If you're just going to be performing some basic moves it's ok to wear mule style Pleasers. They're also great if you're going to be working in a club and you need something you can slip on and off your feet quickly and easily.
If you find a pair of mule style shoes you like, and can't find them with straps you can also buy these awesome detachable ankle straps.
Last but not least, if you are going to drag your heels around a lot and give them a lot of hard wear and clacking, you need to avoid some styles of Pleaser shoes.
That's everything with parts that may break off, diamante, glitter that can be scuffed, you name it!
If you were looking for a pair to put on just for this use in fact, I would recommend either the clear design or the coloured chrome shoes and save your nice ones for looking pretty!
The One Thing I Don't Like About Pleaser Shoes
These shoes are fab, and while I get a better hold of my feet for bending, a better stretch in my Jade split from the weight and a whole lot of comfort, there's this one little problem.
The sole of the shoe over laps the bottom of the platform at the front, which means eventually it gets caught and can damage the sole of your shoe.
You can trim this back a bit to avoid it catching and eventually pulling the sole away.
I also asked pole superstar Michelle Shimmy what she thought of this heel hack at one of her workshops a couple of years ago, as a long time heel wearer she says it's never been an issue - a little bit of superglue or shoe glue and you're done!
Update
Pleaser Pole Shoes now come with pre-trimmed soles. Notably one of the only reasons not to buy Pleaser Shoes for Pole and Dance in the past was the clunky sole sticking out on the front of the shoe.
Good news though! Pleaser have listened to you and they are rolling out their new pre-trimmed outsoles on all their pole dancing shoes and exotic dance shoes throughout 2018.
Take a look at this video from FM Heels showing the new pre-trimmed soles
Some remaining old stock may still have this issue though, and if they do, I have always found a bit of glue to work just fine.
What's The Next Best Alternative To Pleaser Shoes?
In this section I just want to go over some of the pros and cons of Pleaser's biggest rival. I've put together a quick review here.
I own both brands of pole dancing shoes, so it's easy for me to say that Ellie shoes don't come close to Pleaser Shoes, but here's why!
My Ellie shoes were very heavy, as a first pair of shoes this meant I struggled to invert neatly even though I could deadlift it bare foot.
The only thing useful about this was that when I tried Pleaser's for the very first time they felt floaty light!
So maybe if you're doing some hardcore training for a competition in heels and you want to make it feel lighter and easier on the night, you could practise in these in preparation.
The first problem I had with my Ellie shoes though, was getting into them. I was fairly disappointed when they arrived to find that they were very thin width and really squashed my toes up at the end.
That's even after using the hairdryer trick that is recommended if your plastic uppers are too tight.
For this you just heat the plastic under a hair dryer for a few minutes, and then wiggle your feet in, moulding the plastic to the shape of your feet.
If you try that at home be careful to use a low setting on the hairdryer and wear a sock to put your foot in to avoid burning yourself.
This took me a few goes with my Ellie shoes, and honestly they are still difficult to get into at first, but after a fair amount of use they now settle in when my feet warm them up.
This hairdryer hack only works on shoes with plastic straps, it won't work on any other materials.
Ellie shoes are another one piece shoe to avoid easy breakage and although they were fairly comfortable on the inside they didn't match up to Pleaser's slipper status.
Combined with the tight fit they were quite uncomfortable overall and I found the platform was wider on my foot than the base of the platform, which makes them super wobbly to walk on.
One thing they do have going for them though is no need to mess around with the overlapping lip of sole at the front.
If you have a narrow foot you might find Ellie shoes are ideal for you if Pleaser's come up too big, and if you would like to buy a pair you can check out the styles available on Amazon.
What Size Pleasers Do You Need?
This can vary between styles so bear with me.
If you buy coloured chrome heels with plastic straps you will be safe in your exact size. They aren't too big or too small, no hairdryer tricks needed.
There are many people who report buying a size up or down in Pleaser's but in these cases they still seem to talk about needing to alter the shoe, here is what I've noticed...
People who went a size down commented that there was a need to stretch or mould the plastic with a hairdryer and that toes poked out which was a problem for heel bangs.
Those who went a size up had experiences of the plastic becoming slightly slack with wear and then becoming too loose.
For this reason I always stay true to size, I went with my true size when buying pleasers and couldn't recommend it more.
With that said, the plastic can also vary between models so where the chrome style may fit your size perfectly other styles may need the hairdryer trick.
They will also stretch a little with wear so for this reason I would still order my true size. I can also confirm that I ordered my usual size in the closed back ankle strap sandal style and they fit perfectly.
Boots are a different beast! For boots you may want to size up for a couple of reasons.
Closed toes mean if they are a little on the small side there is nowhere for your toes to go. I also prefer to wear socks when I have boots on, if they are closed toe. If no one can see your feet, why not dance in comfort?
So if you plan to wear socks inside your boots, definitely get a size up =)
Conclusion - The Best Pole Dancing Shoes!
For me, I'll be sticking with Pleaser Shoes, they are my favourite brand of pole dancing shoes.
They are by far the best pole dancing shoes out there, I love that they're almost comfier than my slippers even at 9" high!
After buying Ellie shoes first, the change to Pleasers was incredible, with the most noticeable differences being the extra light weight and better fit.
I've not had a problem with the overlapping sole at the front yet either, although they have occasionally lifted, superglue sorts it right out.
They are more than worth the one minor issue though when compared with the next best competitor, and on Amazon you'll find they actually have some of the best prices altogether with free shipping included.
You can't buy Pleaser's directly from the manufacturer, but there are lots of vendors online.
FMHeels are my favourite, if you can't find what you're looking for on Amazon. Sometimes it's cheaper to bag your favourite pair on Amazon, especially if you're taking advantage of free shipping and Amazon Prime's next day delivery service!
Either way, I would always compare the prices and see what works best for you.
If you want to try a pair for yourself, check out some of my favourite Pleaser shoe designs on Amazon below, there are even vegan friendly options!
You can click on the designs you like for more information 🙂
What is your experience of Pleaser Shoes? I'd love to hear your thoughts in the comments!