6
The Ultimate List Of Gift Ideas For The Pole Dancer In Your Life
As the festive season draws in you've probably started to think about getting some gift shopping done, and in this article you'll find a whole range of gifts for pole dancers!
You might be super organised and already have everything sorted in which case you can take a look at this for some self-gift ideas and share it with your friends and family to give them a big hint not to forget how much you love all things pole!
So with that said, if you're stuck for gift ideas for the pole dancer in your life then I'm here to save the day with fifty of the top pole dancing presents!
I've done the hard work for you and arranged all the best gift ideas from pole fitness gifts for the fitness obsessed poler to pole dancing novelty gifts and much more.
So whether you're searching for a great present for that special someone or just looking for Secret Santa ideas for your pole studio you'll find everything right here.
I've organised everything in order of price for you, so there's something for everyone whether you're looking to splash out or find cute affordable stocking fillers!
The Best Gifts For Pole Dancers; Price Categories
Pole Dancing Gifts From $0-$50
Handy for the pole dancer working hard on their flexibility and great for use on the pole to help train strength moves.
When choosing a resistance band online you'll need to know what resistence is needed. If you're not sure you can just buy a set of five bands in varying resistance to make life easy!
If I've learned anything over the last 7 months since really working on my flexibility, it's that you can never have too many yoga blocks!
Available from super low prices they make fantastic stocking fillers for the pole dancer on a flexibility mission.
The perfect stocking filler for the poler who bruises like a peach!
Arnica will speed up the healing process for those pole kisses.
Great for warming up, cooling down and stretching for increased flexibility is the trusty yoga mat.
There are some really pretty designs on premium mats over on Amazon so they really are the perfect gifts for pole dancers.
If you're serious about mastering handstands both on and off the pole, this 12 week training programme allows you to learn tips and tricks from one of the best in the business!
Charlotte Robertson and Pole Freaks have teamed up to bring you this amazing opportunity.
When you sign-up for Charlotte's Handstand Fundamentals programme you'll receive unrestricted ongoing access to detailed video tutorials and bonus materials.
This includes:
63+ minutes of HD video (to stream to your mobile device or download)
22 training videos providing clear instruction through each step
Exclusive handstand training Q&A session
Charlotte's detailed twelve week training programme
Exclusive discounts on pole wear from Dragonfly
For the big kid pole dancer who loves to colour in are these colouring books for adults.
These colouring books are full of pole, hoop and silks positions, an ideal stocking filler or secret santa for the pole dancer in your life.
CafePress has a wide range of novelty gifts to choose from. You'll find all sorts, from pyjamas, t-shirts, necklaces and mugs to tree ornaments, clocks, journals and even bibs and babygrows for the pole mama!
Thongs, bags, waterbottles - you name it! There's a tonne of cool stocking fillers here.
In the Pole Dancing Adventures Cafe Press store you'll find cute designs by Leen Isabel on a huge array of novelty items.
You'll find cute stocking fillers such as mugs, t-shirts, pillows, necklaces, journals and more!
There's a huge number of stores to browse on Etsy with lots of cool designs for pole dancers.
In fact, there's so many great designs and stores that I couldn't possibly have listed them all here, so make sure you take a look!
Aside from pole shorts and sports tops you'll also find an array of unique design print t-shirts - the perfect gifts for pole dancers!
Pole Dance Jewellery is home to a beautiful selection of necklaces, earrings, bracelets and body jewellery with various pole moves on them.
Pole positions to choose from include; Martini Sit, Russian Layback, Titanic, Superman, Allegra, Cupid, Cross Ankle Release, Eagle, Bridge and Scorpio.
Pole charms have a cute selection of pole dancer silhouette necklaces and also stock some fun pole shorts designs too!
Pole position silhouettes include; Pole Backbend Headstand, Cross Ankle Release with a Cat, Back Arch and a unique Felix Cane inspired Spatchcock design.
This is a personal festive favourite of mine - the pole dancing poler bear doing a handspring on the North Pole!
There are lots of novelty Christmas shirts out there for pole dancers but this one tops them all.
Find PoleFitProducts on Red Bubble, with fun designs for pole dancers just like this one.
Shirts are fitted skinny fit so if you prefer a looser shirt just order a size up!
Pole dancing novelty Christmas shirts for festive pole dance giggles.
Great ideas for stocking fillers or a Secret Santa gift to your pole fam!
Choose from a whole host of novelty pole dance shirts on Amazon, unlike the novelty Christmas shirts these can be worn all year round!
These cute mugs are great Secret Santa worthy gifts that will be perfect for any of your pole friends at the studio.
Choose from over 10 fun different designs on Amazon.
Perfect for stretching or working on floorwork, Mighty Grip Liquid Motion knee pads take the pressure off your knees.
They're also great for seamless transitions from floor to pole as the back of the knee pads has a sticky 'tack' finish for all your knee gripping needs!
Based in New York USA with worldwide shipping, Twisted Polerina features the designs of sisters who pole.
They combined their love of pole and twisted sense of humour to come up with cute and witty tank tops to wear to pole class.
The store also features selected products from Cleo The Hurricane and this year launched a super cute new pole dancer christmas bauble for your tree!
Based in Greece you'll find a colourful, cute and sexy selection of pole wear, dance wear and street wear at Point Out.
They also have shirts for men and a section dedicated to pole dance gift bundles for inspiration.
Don't forget to check out the Offers section of the store to grab the hottest bargains!
Based in the UK, PoleHog offer a huge range of materials at affordable prices for pole wear to suit everyone.
As well as pole shorts and tops they also make lovely back warmers. You can also purchase a gift voucher if you're not sure what to choose!
It wouldn't be Christmas without the traditional 'ugly jumpers' - and at Stupid.com they've even covered us pole dancers.
This sweater with cheeky pole dancing elves is perfect for your pole christmas party!
If you've been searching for a 2018 Pole Calendar the hunt is over!
The calendar is filled with twelve relatable designs by Leen Isabel to suit each month of the year.
You can view this year's calendar and designs for each month here.
For a long time moisturiser was a taboo word among pole dancers. If the pole dancer in your life has been suffering dry skin and no time for moisturiser in between practise then they will love you for this one on Christmas morning!
Body Shop's Body Sorbets are light, oil free and contain an active ingredient that actually helps with grip on the pole!
My favourite scents are the Strawberry and Virgin Mojito 😀
Find a wide range of pole shorts, sports bras, leggings and tank tops in some of my favourite designs at Dragonfly Brand.
All shorts at Dragonfly brand provide great coverage and sweat absorbancy. For a touch of sparkle this festive season treat her to the Diamond Line Swarovski designs!
Check out my article featuring seventeen brands that stock pole wear for the male pole dancer in your life.
Men often struggle to find nice polewear, so in that post you'll find a great selection of shorts to choose from in one easy to find location!
Perfect for the Hippy or Yogi in your life are these stunning Harem and Aladdin pants designs at One Tribe Apparel.
Great for relaxing, stretching and meditating I personally love the elephant design products, $1 from each sale of elephant products on site goes to feeding and rescuing elephants in Chiang Mai, Thailand!
Don't forget to enter coupon code LOVEPOLEKISSES at the checkout to claim your exclusive 15% reader discount.
Ideal for the pole dancer working on back flexibility are these beautiful reversible back warmer designs from Hoodlum Fang to keep muscles warm before, during and after flexibility training.
Available in ten of their most popular fabric designs so you can even mix and match it with your favourite Hoodlum Fang polewear!
Pole Dancing Gifts From $50 - $100
Packed with a stunning array of sports tops, shorts and tank tops in unique designs, Siluet Mode is based in Prague and offers worldwide shipping.
Most of the pole wear here is actually in the $0-$50 range but it earned itself a place in this category due to the price of the tank tops and leggings.
Find the perfect bikram yoga, hot yoga, pilates, pole dance and running wear designed by a certified Yoga teacher who knows exactly what you need!
Active creatures stock a wide range of pole shorts from full gluteal coverage with high rise waist through to brazilian booty shorts!
You'll also find sports bras and crop tops in their unique designs.
These shorts and tops are actually in the $0-$50 range but I've put them here because of the slightly higher cost of the leg warmers featured in the store.
Derby Skinz is a family owned business run in central Pennsylvania with all sorts of interesting designs available, from sportswear and team uniforms where they bring your brand design ideas to life.
They also sell gift vouchers if you're not sure what to choose and be sure to check out their overstock sales for great bargains!
While heels aren't for every pole dancer, most of us love them. You can't go wrong with a gorgeous pair of pleaser shoes!
Just in case you're a man reading this and you haven't got a clue where to start looking through all of the designs, here are some of my top picks for you to take a look at.
Click on any of these popular styles above to check prices and purchase on Amazon.
Every pole dancer should have a massage roller, I don't know how I ever lived without mine.
Perfect for achy muscles from strength or flexibility training. Massage rollers can be used pre-stretching for increased flexibility or post-stretching and post-workout for faster muscle recovery!
Garmin VivoFit wristbands vary in price depending on the model you choose, I would recommend the newest model for all possible features.
With that said, the original step tracker with calorie counter, activity level monitoring and sleep tracker is still a great purchase.
The activity monitoring shows you when it's time to get up and move to keep your metabolism up and syncs easily with your smart phone.
Mipole is a fun novelty item for your pole. It's a portable LED light that is sound sensitive to flash to the beat of your music.
The Mipole Dance Pole Light is battery operated, so no wires and it's also adjustable to fit any pole up to 50mm in diameter!
This product ships from the USA so although it is now available in the UK Amazon store, UK readers should double check postage costs as they can be pretty big!
Pole Dancing Gifts From $100-$200
If you liked the jewellery earlier on but don't fancy silver or just wanted to get something extra special for the pole dancer in your life these 9ct gold pole dancer charms are the answer!
Choose from popular pole move designs including; Martini Sit, Eagle, Superman, Allegra, Cupid, Titanic, Scorpio, Bridge and Cross Ankle Release.
I've put these pole dancing DVDs up in the $100 - $200 range because some of the box sets, including 'The Art Of Pole Dance Limited Edition' can be quite expensive.
With that said though, there are many great options and DVD's range from $20 and up individually, so take a look and see what you can find.
Some of the more highly recommended titles include; The Art Of Pole, Felix Cane Pole Dance Mastery, Alethea Austin's Floorwork & Sexy Fundamentals and Cleo's Rock N Pole - Rockin' Legs & Abs and Back Is The New Black.
Monitor steps, distance, sleep, calories burned & heart rate with FitBit.
Perfect for the fitness obsessed poler to track and manage health goals!
At 123-Poling you can find online pole instruction for either $19.99 per month or a one off all-access payment of $199.99.
With Iron X membership you'll have instant access to hundreds of pole move tutorials taught with easy to follow techniques.
Pole Dancing Gifts From $200+
The ultimate boot camp pole training with Zoraya Judd.
Travel to Zoraya's home in Utah and learn about her lifestyle of pole, nutrition, gym and how to fit it all into day to day life.
Choose from 10-15 hours of pole with Zoraya including nutrition, gym and flexibility sessions.
Suitable for all levels of pole dancer and an excellent way to learn how to progress quickly.
Training packages can be shared with a friend at a slightly cheaper cost per person.
For more information contact the email address in the picture above.
Training tailored to suit the individual on a one to one level with Sarah Scott.
You can work on anything from choreography to strength, conditioning, flexibility, nutrition and even your competition prep.
If you choose a package of more than one day accomodation and meals are provided, packages of up to four days available.
Training packages can be shared with a friend at a slightly cheaper cost per person
Give The Gift Of Pole Dance... 24/7!
What better way to treat the pole dancer in your life than with their very own pole, to give them 24/7 access to their addiction!
Lupit Pole is a rising choice of pole with a great reputation. Featured at pole competitions and available for shipping worldwide.
Buy Now USA / Buy Now Europe & Rest Of The World
The leading brand of fitness pole, you can't go wrong with X-Pole! With a huge array of finishes and widths to choose from you're sure to find the perfect pole - or hoop!
They also sell gift certificates if you're not sure which one is the right fit and you can choose from a selection of pole, floorwork and flexibility DVD's too! 🙂
Lil' Mynx are reputable professional dance poles, manufactured in the USA and available for shipping worldwide.
Choose from coloured powder coated poles for extra grip or polished stainless steel in either 45mm or 50mm diameter. Ceiling fittings from Lil' Mynx are discrete and look like plant basket hangers if you want to temporarily remove the pole from site.
If you're not sure which pole to choose you can check out my detailed guide to buying a pole, or just grab a gift voucher from X-Pole!
If the pole dancer in your life is practising at home, you should take a look at whether they have their own crash mat.
Give the gift of safe practise. No pole dancer should be practising without one of these, it's a must have present!
Based in the US with worldwide shipping available, Aura Heels was created when owner Alan saw his wife in a pair of clear platform shoes and began to wonder how to make them light up!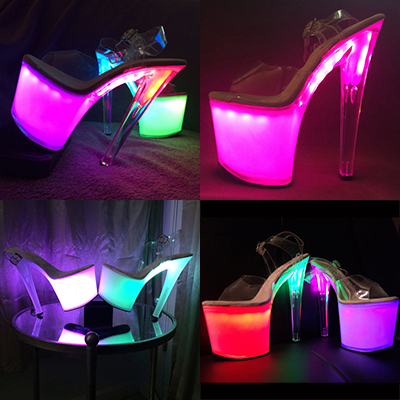 They custom build all of their products from brands like Pleaser or Ellie and you can choose anything from basic light up designs to sound reactive and tilt sensitive illuminations!
Gift Vouchers
Not sure what size to get or what to choose but still want to make a more personal gift than just money in a card?
Gift vouchers are the way to go! Here are some popular pole stores with gift vouchers for sale 🙂
Pole Greetings Cards & Wrapping
To finish I've put these cards and a funky wrapping paper option in a section all of their own since there are a few places you can get them from.
I really hope this has given you a little inspiration, there's definitely something for every pole dancer here!
If you like some of the things in this list why not send it to family, a friend or your partner for a really big hint 😉
Have a very merry festive season!